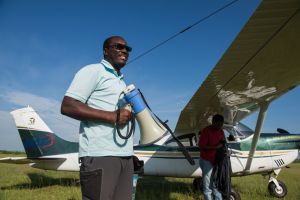 I have rarely met anyone so passionate about the Bible. Meet Jean-Claude, an African from the Ivory Coast, whose enthusiasm seems unquenchable. Whose entire speech is punctuated with italics, bold, and exclamation marks. Who laughs and shouts and preaches with arms lifted or fingers pointing, always with a Bible in his hands. He's larger than life and it's all real.
Jean Claude's dream is to see every Malagasy own a Bible. MAF is trying to help.
In Madagascar, they have offered Jean Claude and other local missionaries & churches highly subsidized flights in their small green Cessna 182, charging only 10¢ a kilometer. Last week, this allowed Jean Claude and his colleague Rado to fly to Morombe and Manja, both towns that would otherwise be inaccessible during the rainy season, or a three-day trip in the dry. Or…a two hour and 45 minute plane ride.
Jean Claude was thrilled that he could go this far this fast and constantly, unprompted, praised MAF for making it possible. "Because of you, I have this BIG opportunity to come here to preach the gospel! It was TOTALLY IMPOSSIBLE because there's no road to come here!  There's no bridge, so no road. Because of MAF, I have this opportunity!"
A megaphone is key to what they do. It announces why they are here. As we drove from the airstrip into town, Rado shouted into the megaphone the entire drive as we passed small clusters of huts or people gathered by the side of the road.  "We have Bibles! We have just arrived! Please come to the market and you will have a Bible for only 5000 ($2)."
The actual cost of the Bibles is $5 each, but one of the MAF pilots, Josh Plett, got his church in Canada to raise money in order to drop the price to $2, something a Malagasy is more likely able to afford.
The crowds surrounded Jean Claude and Rado once they reached the main street of town, and the Bibles rapidly sold out. Rado even sold his personal, heavily marked up Bible when a woman begged him for one and there were none left. The two preached a bit and handed out free Biblical literature, nearly causing a fist-fight on the street as people tried to claim a piece.
"With MAF, just two hours and I'm here with my megaphone," Jean Claude exclaimed.  "I can preach the gospel, and you see? We came with the New Testament and Bibles. In 30 minutes…FINISH the Bible! FINISH all the New Testament, and people are crying because there are no more Bibles! Thank you to MAF for giving us this opportunity!"