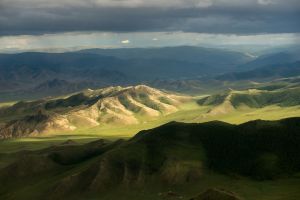 I've been in Mongolia now for five days and have been going non-stop. I'm photographing and researching stories for Mission Aviation Fellowship (MAF) which operates in Mongolia under the name Blue Sky Aviation. They have one Cessna Grand Caravan, one Canadian pilot, one American Program Manager, and their Mongolian staff that includes Badaa, the Operations Manager and co-pilot. Ryan, the pilot, has learned Mongolian quite well, but this is one of the few countries in the world where the aviation traffic control language is not English. Badaa joins most flights for this reason, plus he is a licensed pilot now…and an amazing guy all around.
Ryan is one of the happiest people I've ever met and a pure optimist. He told me he almost didn't get in to MAF because they thought he lied on his psychological evaluation test. He was too happy. They made him take it again.
Day 2 here, Ryan flew two emergency medivacs. I joined the second one – a 2.5 hour flight from the capital of Ulaanbaatar (UB for short). This one required that we stay overnight in "the coldest town in Mongolia", according to Ryan. In the winter it gets to -60.
Day 3 we flew the stroke victim back to the capital in the early morning and picked up new passengers from Reaching the Light to fly five hours to a town on the far western edge of Mongolia, close to the Chinese border. The five passengers, all women – 2 expats and 3 Mongolians, were scheduled to run a clinic to assess children with learning and physical disabilities. On the flight, the special ed woman who was pregnant threw up over and over throughout the entire flight, and 40 minutes from our destination, another one began to have what appeared to be seizures. We came down from high altitude and gave her oxygen and after about 15 minutes the seizures stopped. It was frightening. We were five hours late, stressed, tired, sick, and there were still about 30+ families waiting to see the team. They worked till 9 pm, giving 20 children and parents a full individual evaluation, giving advise on exercises for the physically disabled, and speech therapy advice. They were looking for those cases that could benefit from a 2-week intensive therapy in UB. It was amazing to watch each woman give their full attention to each child as if they were the only person in the room. And the Mongolian parents clearly deeply loved their children with mothers and fathers in attendance. I felt privileged to be there.