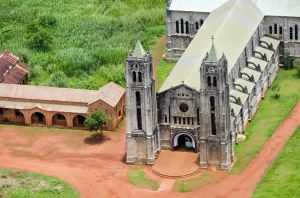 Today I flew with MAF on a path that took us over the Ituri Forest. As we were heading home to Bunia from Isiro, the pilot, Joey Martin, suddenly said, "Want to see a cathedral?"
Why not?  I never say no to these kind of questions. We were, however, flying over an expanse of jungle that is the 2nd largest rainforest in the world. It seemed an odd suggestion.
He dropped down from about 10,000 feet to circle a church in the middle of the jungle. I've seen some large churches in large villages in the jungle, but nothing has compared to this. This is most certainly a cathedral and it was not in a city or even a village. I searched the internet and found one photo of it on Google Earth that called it Tschungel near Maboma. I then searched for information on this odd monument in the middle of nowhere but came up with absolutely nothing. If anyone out there knows something about this place, I'm dying to know. Here are some pictures of the cathedral as we circled it, and the photo I found online.
** Update: Someone found an interior photo of this church online: