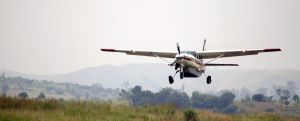 Flying in Congo seems to be in the category of a life-threatening adventure your mother would plead with you to avoid. Like sky-diving, riding a motorcycle through Africa, traveling alone around the world, working in rebel-controlled territory. My mother doesn't know about the dangers of flying in Congo. She probably doesn't worry because I usually fly with MAF (Mission Aviation Fellowship), and my brother is usually the pilot.
Yesterday, we were all reminded once again of the dangers of flying in Congo when an airline crashed into a residential area of Goma in a hail storm. Miraculously, no one on the ground was killed, and the flight only had a few passengers. A few actually survived, although most of the crew were killed. This was an airline that most expats who live in Eastern Congo have flown at some point in time. Congo has one of the worst airline accident rates in the world.
Tomorrow I'll be flying to Goma and Bukavu with MAF and Lary Strietzel as pilot – an experienced bush pilot who has worked in Congo for decades. I have complete faith in these pilots. Thank God for MAF and the work they do.